Dr. Paul Habriga's interest in veterinary medicine started during his childhood. During his high school years, he participated in an after school program at a local veterinary clinic. After high school, he enlisted in the US Army, where he served four years working under veterinarians and graduated from training at the top of his class. Dr. Habriga attended evening classes, worked at animal control (serving the local Humane Society), and volunteered at two local nonprofits. While serving our country, he gained experience working with injured bald eagles. Following his military service, he used the GI bill to earn his bachelor's degree from the University of Wisconsin – Madison and continue on to veterinary school. While Dr. Habriga completed his education, he worked at Lodi Veterinary Clinic as a veterinary assistant. After his graduation from veterinary school, he spent the first ten years of his career in West Allis, Wisconsin, after which he worked five years in Jackson, Wisconsin.
Dr. Habriga dreamed of opening his own practice from early in his career. His practice philosophy is simple: offer top quality vet care to all pets, including non-traditional critters. He uses his knowledge of the latest studies to help treat your companion and if needed, refer to a specialty clinic. Dr. Habriga understands that veterinary care can be expensive and offers a variety of treatment options. Furthermore, he is sensitive to the difficulty of losing a beloved pet and designed his practice with a separate door for use by clients after a loss.
Dr. Habriga's interest spans all areas of veterinary medicine: dogs, cats, and exotic animals, including but not limited to: ferrets, guinea pigs, rabbits, birds, reptile, amphibians, and all other nontraditional pets. While the majority of his practice consists of dogs and cats, he has treated a twelve-foot boa constrictors, a toucan, prairie dogs, puffer fish, and a leopard gecko that needed surgery. He has a particular interest in surgery, dentistry, exotic animal medicine, and complex medical cases and is currently studying for his board certification in reptile and amphibian medicine. He belongs to the Association of Amphibian and Reptile Veterinarians, Wisconsin Veterinary Medical Association, American Veterinary Medical Association, Association of Exotic Mammal Veterinarians, and Humane Society Veterinary Medical Association.
Dr. Habriga enjoys family activities with his wife, Sarah, son Henry, and daughter Coralie. Their family includes four furry friends: Rufus, Wookie, Dovey, and Nala, as well as a not so furry bearded dragon named She-Ra. His hobbies include collecting vintage comic books, working out at Badger Crossfit, and trying new porter/stout beers.
Hello, my name is Shane Mueller. Growing up I knew I wanted to be a veterinarian from my love for animals. MY dream is to become a veterinarian that focuses in shelter medicine/ orthopedics.
I am a Pre-veterinary student at the University of Wisconsin – Milwaukee, getting degrees in Biology and Psychology. I have several years experience with animals whether that be volunteering at humane societies or working at doggy daycares., from this experience I have gained a lot of knowledge on animal behavior. I am also animal CPR certified.
Besides school and work I enjoy spending time with the dogs I have of my own. The 1st one is a Miniature Australian Shepherd named Lily. The  2nd dog I have is a Great Pyrenees mix named Angel. Besides animals my other hobbies include being involved in the community, cooking, hiking, baking (human treats and dog treats) and playing ultimate frisbee.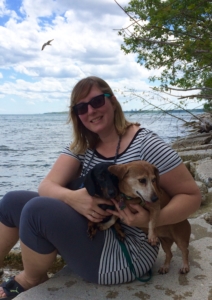 I have been working in the vet field for the past 13 years and wouldn't have it any other way. I enjoy meeting new people and their pets everyday. The parts of my job I enjoy most are seeing pets grow up healthy and happy, helping educate clients about their pets' needs, and watching sick pets recover with great vet care.
I live in Riverwest with my husband, our two cats (Fishy and Leroy) and two dachshunds (Mia and Boo). In my spare time I like to travel as much as possible, enjoy the outdoors (especially the beach) and of course, Netflix and chill.
I graduated from the University of Wisconsin – Madison with a degree in Zoology, so I am a proud Badger alumni! I found my passion for the veterinary field through working at a humane society where I naturally found myself drawn to patient care.
I have two family dogs; a 10 year old border collie/Shepard mix named Colt (pictured) and a 5 year old rat terrier named Bane, both of whom are rescued dogs. When I'm not doing something pet related, I enjoy being outside, particularly hiking, bird watching, and fishing!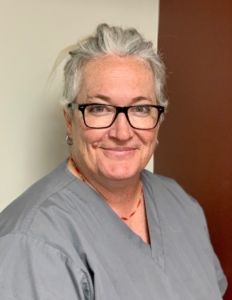 I moved to Milwaukee from Denver, Colorado in 2019. I've been with my beautiful wife for 28 years, and we have 4 fantastic fur babies: Nina Alicia, Duncan Doodle, Kenzi Poo, and KCMO. I'm a big Kansas City Chiefs fan. Keep calm and go Chiefs!
I've worked in the veterinary field since 1994 and can't see myself doing anything else. I love working with Dr. Paul and the Harwood team. We are a fun, little family. I'm looking forward to meeting new clients and seeing familiar faces here for many more years.